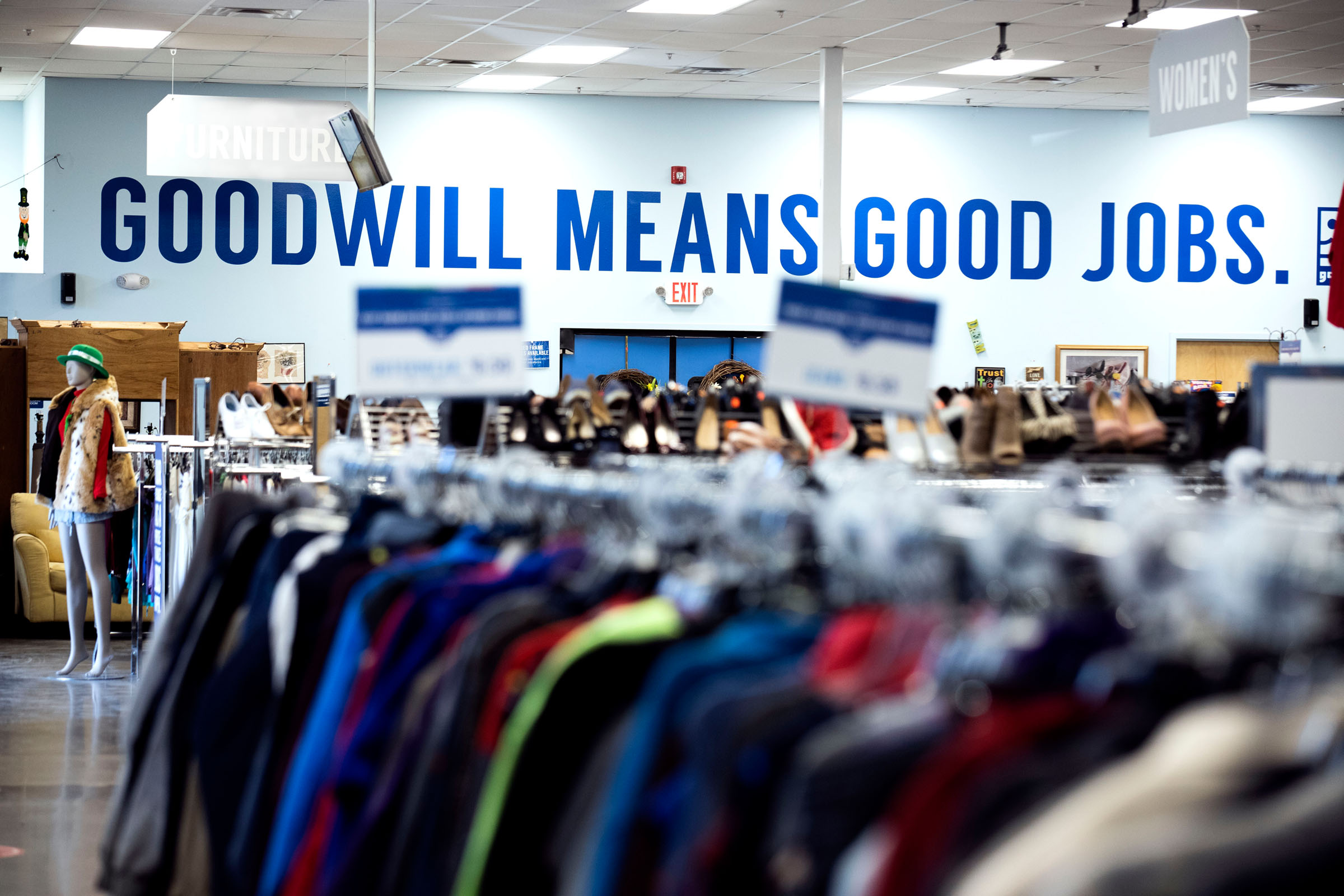 You reach the register at Goodwill feeling a sense of accomplishment. After scouring the racks of well-loved clothes, furniture, books and more, you finally found the perfect flannel shirt and dresser for your space. Beyond the bargain, you know this store is all about serving the community; it's literally written on the walls in short phrases about its mission.
The ease of donating encourages giving, and low prices provide people with easy access to quality items. Not only does buying second-hand help the environment, but each purchase also funds local employment for Kentuckians in need or with disabilities. From the kind folks you meet at the donation center to the person who checks you out, the atmosphere at Goodwill is undeniably uplifting.
Once you overcome the initial rush of savings and gratification, it's time to get to work. The flannel shirt needs a little flair and the dresser a subtle face-lift to match its new home. The following fixes are easy ways you can spruce up your Goodwill finds before they are loved for years to come.
Find a button to sew onto your new piece
A wide variety of buttons are cheap and easy to find at craft stores like Michaels or Hobby Lobby.
It doesn't need to be an exact match; a mismatched button can add pizzazz to your clothing.
Make sure you have a needle, thread, a button and scissors.
Lay the button in place and use the needle to feed the thread over and under through each hole until it's secure.
Tie the remaining thread in a knot and cut the excess thread to finish.
Mend the holes
Whether it's a new couch or clothing, refine it by sewing up its holes in the fabric.
Grab a needle, scissors and matching thread for optimal looks.
If the hole can't be stitched back together, grab a patch of fabric to attach to the material for a unique and fashionable look.
This is 2021 — you can look up easy step-by-step videos by Youtubers like Professor Pincushion.
Buff out scratches
Just like mending holes, buffing out scratches on furniture is an easy way to make it look like new.
Purchase a sanding sponge from your local hardware store, and sand in the direction of the grain if buffing wood.
You can also purchase a scratch cover oil and use steel wool to buff.
Change the fixtures
With a proper screwdriver and new fixtures purchased from a hardware or craft store, you can switch up the knobs, handles, hinges or other hardware on your furniture to best reflect your taste.
Be sure to have the correct screwdriver and to measure distance between any holes before purchasing new hardware.
Get creative
If the dresser you bought has a missing drawer, simply fill the space with a cute basket!
If it's not quite the color you wanted, a quick paint job will do the trick to make it fit your vision.
PRO TIP: Shopping Goodwill's color of the week sale will get you even better deals. Items tagged with the designated color are 50% off Monday through Saturday and are just 99 cents on Sunday. Just remember that when you shop Goodwill, you buy something good and do something great.