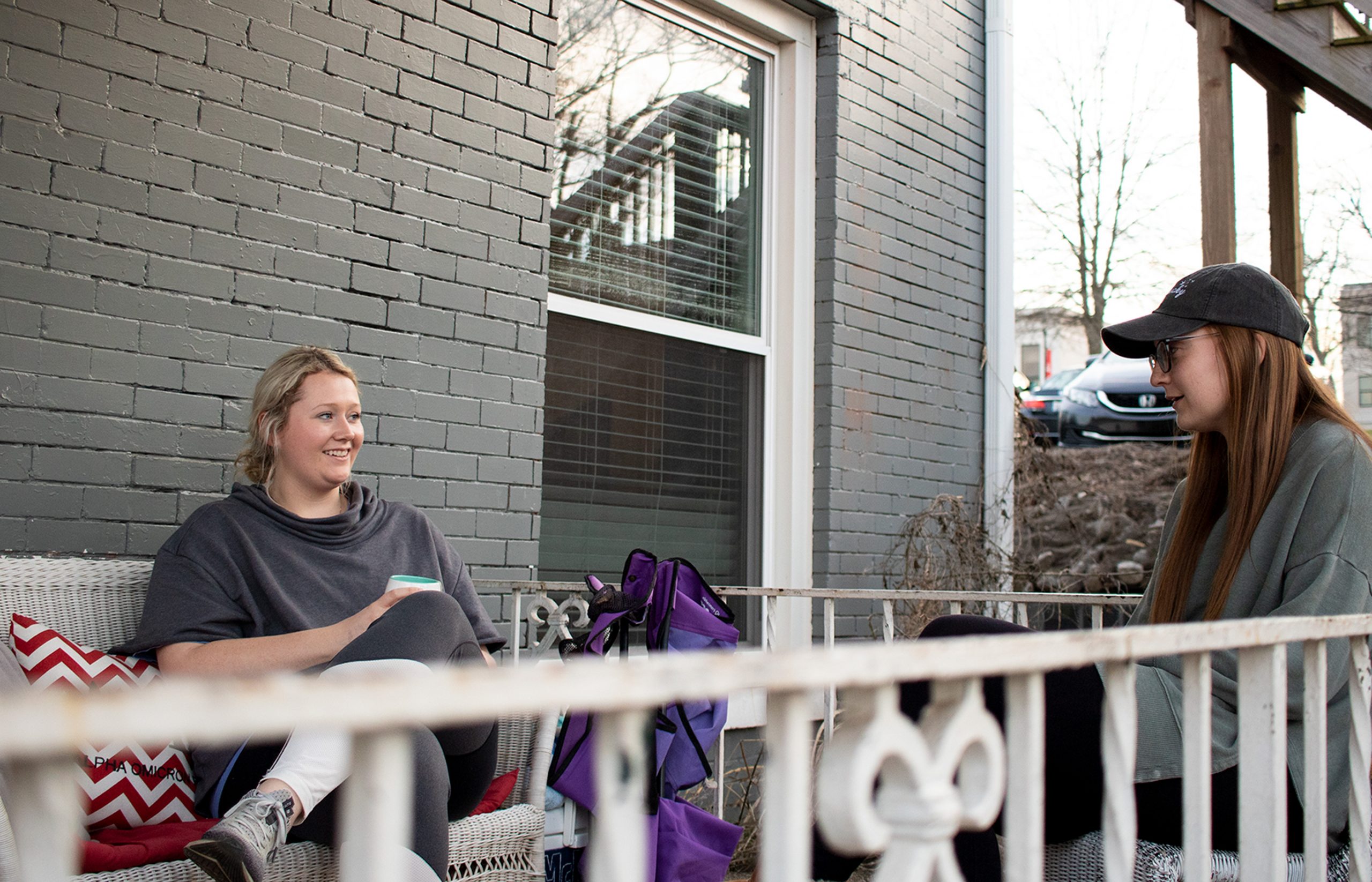 Living like a Greek:
5 things you didn't know about living in Greek housing
Have you ever wondered what it is actually like to live inside those grand brick houses? The reality of living in a sorority or fraternity house is probably different than you may imagine. Here are some unexpected truths about sorority and fraternity living.
1. Common spaces are shared with everyone
Greek chapter houses at WKU can accommodate anywhere from 8 to 24 people. You might think having 20 roommates is a lot, but imagine having 150. Living in a sorority or fraternity house means sharing the common spaces with the entire chapter. Anyone involved in Greek life most likely has the code or key to their organization's house and is able to go in anytime. 
"We always encourage chapter members to come by the house to hang out with others and promote brotherhood," said Will Harris, a Glasgow sophomore who is a member of Phi Delta Theta.
2. Greek houses are not wild party houses
You have probably seen movies like "The House Bunny" or "Neighbors" that depict Greek houses as a place for throwing wild ragers, but that is not the case. At WKU, sororities and fraternities aren't allowed to drink alcohol in their houses. Chapter houses are utilized for chapter meetings, philanthropy events and other sober events. Sorority and fraternity houses are technically on-campus, so any events with alcohol must be  held at a separate location off campus. 
"We have really high expectations for ourselves," said Michaela Brangers, a Chi Omega junior from Elizabethtown. "We always keep the common spaces clean and have rules enforced by our housing board." 
Many sorority houses also have regulations about male guests, like restricting them to common spaces, which allows for more bonding between chapter members.
3. It is very convenient
Since many activities are held at the chapter house, residents can simply walk downstairs to attend a chapter meeting or an early morning recruitment workshop. They also get to enjoy leftover food from events hosted at the house. 
Living in a Greek chapter house is also one way to be exempt from WKU's two-year housing agreement. Since Greek houses at WKU are right beside campus, the walk to class is relatively short, providing the on-campus feel without the small living space of a dorm.
4. There is very little privacy
In many Greek houses, especially sorority houses, people share rooms and bathrooms with at least one other person, if not more. Living with a dozen friends can feel like a never ending slumber party, but it also means having very little privacy. On the bright side, there is always something going on or people to hang out with. 
"You have someone to eat with for breakfast, lunch and dinner," said Ashley Perschbacher, a Kappa Delta junior from Thompson Station Tenn.
So even though residents might have to walk to a study location on campus to find a quiet space and some privacy, loneliness or boredom rarely strikes while living in a sorority or fraternity house.
5. It forges deep bonds
Living with roommates is one thing, but living with roommates that double as sorority sisters or fraternity brothers is another. Chapter housemates are more than just roommates since there is a shared connection as members of the same sisterhood or brotherhood. Since everyone goes to chapter meetings and other events together every week, housemates will grow to feel like family. 
"After you graduate, you're going to have experiences where you can live with other women again, but it's never going to be people you're connected with at this level, and it's never going to be this many girls," said MaryCarol Kuhn, a Prospect sophomore who is a member of Kappa Delta.
Living in the house also means being involved in most things going on in the chapter. House residents live, eat and breathe their Greek organization. Being constantly surrounded by other members of your sorority or fraternity makes it hard not to become deeply invested in the chapter and fellow housemates.