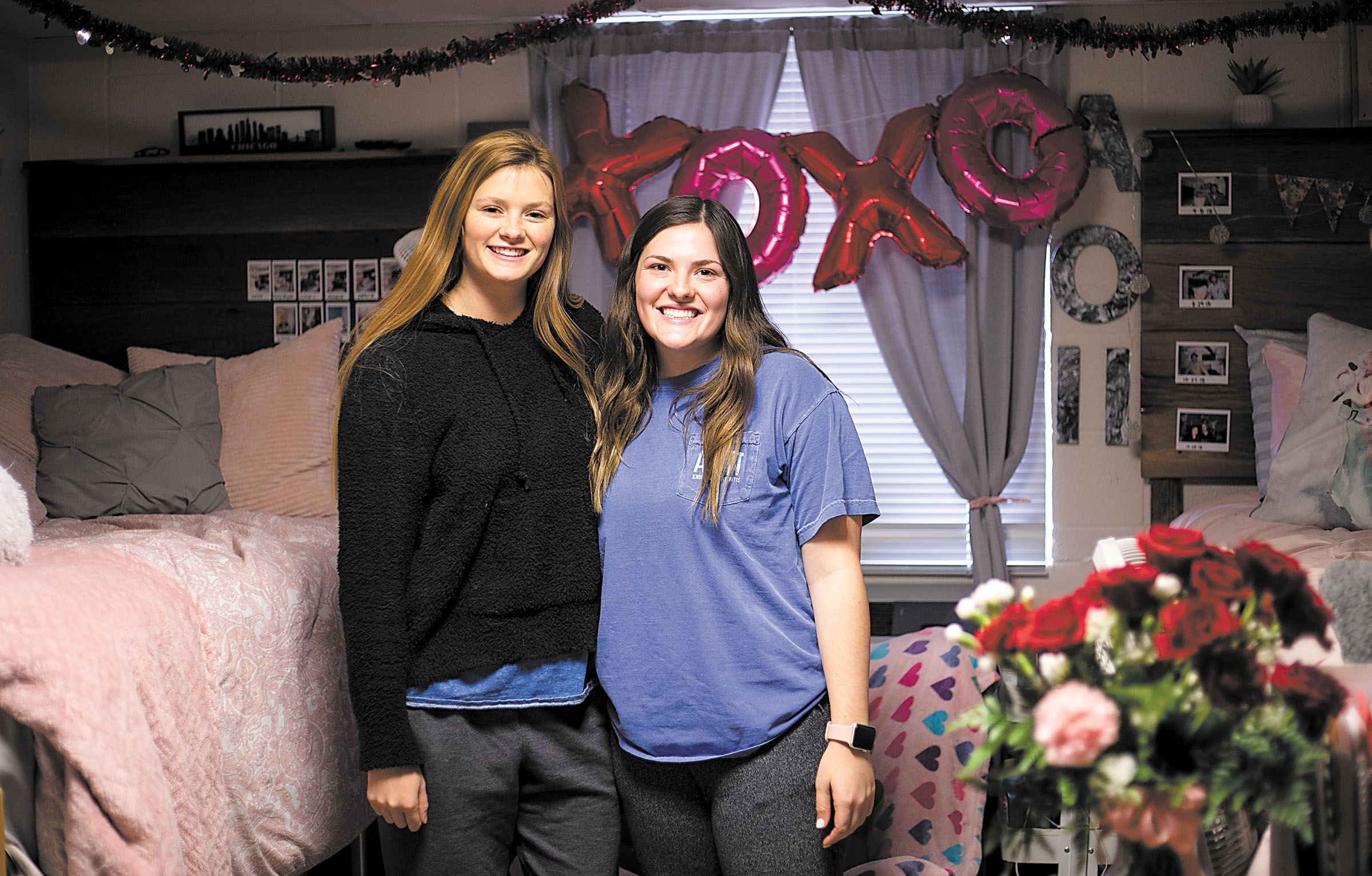 Roomie Stories:
The good, the bad, & the best
Choosing a college roommate can be stressful. The time and energy spent searching can be wholly rewarded or rendered useless. WKU students shared their best and worst roommate stories — and how they were changed for the better from both. 
The Registry roomies
Cassidy Townsend, Jacob McAndrews, Gibson Brueher and Griffin Rae live in an apartment at the Registry. Townsend, McAndrews and Brueher talked about the benefits of an apartment compared to a dorm. 
"We can choose when to hangout with one another," Townsend, an Erlanger junior, said. "Like if I wanted to lock myself in my room for 48 hours, I have every option to."
Townsend said her caring roommates would check on her prior to this elapsed time, but the apartment layout is beneficial in terms of privacy. 
"It definitely is nice having both a public space and a private space," McAndrews, a Villa Hills junior, said. "It makes your time in the public space much more enjoyable."
The four roommates do genuinely like being around each other, Brueher, a Franklin, Tennessee junior, said.  
"I feel like we spend a lot of time together for how busy we are," Brueher said. "We do spend a lot of time in the common space, even though we do have our own private spaces. When we're all out here, it's always a party. We're always doing something crazy, like playing chess."
Each of the Registry roomies have different reasons why they enjoy living together. 
"My favorite thing about living with this particular group is our morning routine when it works," McAndrews said. "We sometimes wake up early and eat breakfast and work on our homework before class." 
Brueher said that McAndrews denied his breakfast and homework offer that particular morning. Nonetheless, they remain friends.
"My favorite thing about living with this group is, beyond the apartment stuff, there's always someone to chat to," Brueher said. "If you're ever feeling like you're bored, you can come out and chat." 
come out and chat." 
Townsend agreed that the four roommates have meaningful chats, and said they also get competitive with board, card and video games, like Mario.
Townsend said they all get along and rarely argue because they're all level-headed and mature. They all attested to the fact that any conflict is easily resolved because they live together.
The Registry roomies are obviously very funny, laid-back and enjoyable people. Amidst all the jokes and anecdotes, they mentioned how much they would miss rooming together next year.
First impression gone wrong
Editor's note: The source of this bad roommate story requested to remain anonymous. She wants to keep her relationship with her old roommate as professional as possible. 
Anonymous met her roommate at H4, an Honors retreat, prior to the start of freshman year. They became friends and decided to room together last minute. 
"I regretted it from the moment I said yes, but it was just a year," anonymous said. "I knew I was in for it when her mom indicated to me that I needed to mother her while she was at school."
From the beginning, anonymous could tell that her personality clashed with her roommate's. She expressed the stress that her roommate would force on her. 
"She didn't know how to handle being away from her family even as a sophomore and just kept deflecting her anxiety onto me," anonymous said. 
Her roommate would have panic attacks about procrastinating on assignments and release that panic as anger onto anonymous. 
"I'd say I'm pretty good at time management, and she would literally get mad that I had free time to the point of yelling her frustrations and having regular panic attacks," anonymous said. "I didn't have much sympathy for her because she was constantly putting off studying until the last minute."
The situation between anonymous and her roommate progressively got worse. They continued to clash, and her roommate continued to regularly break into a frenzy. 
"She constantly wanted people to pity her and take care of all her problems and the breaking point was when I stopped coddling her," anonymous said. "I experienced the most anxiety I had ever felt in my life — imagine not feeling welcome or safe in a small space that serves as your kitchen, study, living room and bedroom, as well as sharing it with another person."
Anonymous was typically a relaxed person, so this newfound anxiety was unnerving.
Anonymous talked about how annoyed and rude her roommate would become if anonymous would have friends over in their room. She said her roommate acted that way on multiple occasions, so she tried to confront her, but her roommate would not face the issue. 
"The final straw was when she wouldn't respect even my friends that would hangout with me," anonymous said. "I spent most of my nights with my boyfriend who lives off campus. I finally told my mom what was happening and she was appalled. She came up the next weekend, and I signed a lease that Sunday."
Anonymous made the decision to move out for her health and sanity. She is now in a great roommate situation.
"My new roommate now is awesome. She and I are very much alike, and I admire how hard of a worker she is," she said.